Let's be honest – when we began 2020, we probably didn't plan for the year we ended up having. There is just a few weeks left before 2021 begins, and despite the challenges, there have been some exciting and innovative moments at Nukon.
Here are a few highlights we want to share.
Are we tired of saying 'pivot' yet?
A year of disruption
While we're all tired of hearing the words 'unprecedented', 'disruption' and 'pivot' – there's no 2020 reflection that doesn't include COVID-19.
As the pandemic spread, we saw more organisations realising the need to digitally transform operations. That brought both challenges and opportunities as organisations began to question what a modern workplace would look like.
Managing supply chains, planning production and operations
In the early stages of the pandemic reaching Australia, many of our manufacturing clients faced new challenges in the form of panic buying and supply chain disruptions. Managing supply chains, planning production and procurement has never been an easy task but this year challenged even the most sophisticated operators.
Nukon provided supply chain risk minimisation advice and helped clients quickly integrate tools to improve the process.
Introducing new capabilities and preparing for expansion
Back in February Nukon were part of the SAGE Group Best Thinking Breakfast in Melbourne, which focused on demystifying artificial intelligence.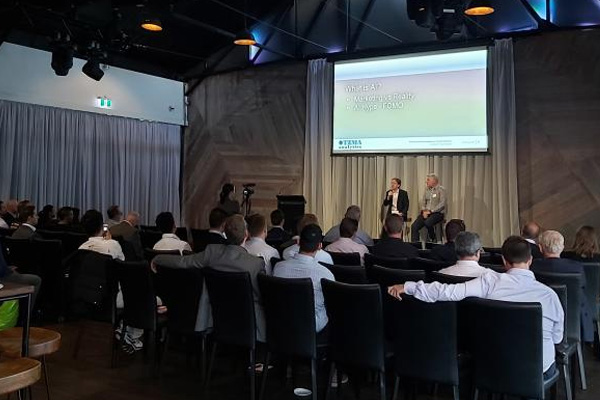 Hosting Dr Michael Brand at our Best Thinking Breakfast
Our guest speaker, Dr Michael Brand of Otzma Analytics shared insights on what AI really means for operators and touched on some of the steps organisations can take to be prepared.
Read more: 4 Essential steps to build your artificial intelligence framework
Real-time visual inspection
Over the last few months, we worked with Amazon to trial the Amazon Lookout for Vision technology, which enables automation of real-time visual inspections through computer vision.
The trial took place with sister company SAGE Automation, used to detect product defects in real-time in the manufacturing facility. Lookout for Vision is quickly integrated and massively valuable for manufacturers' quality systems. For our clients, it adds an extra level of quality assurance by visually inspecting manufactured products and providing peace-of-mind for customers.
Industrial analytics
In November, Nukon Principal Consultant Andrew May joined our partner Seeq and clients AGL Energy, Newcrest Mining and TasWater for our first industrial analytics summit.
Our clients explained some of the efficiencies they had seen within their business, and the impact advanced analytics had for their engineers.
Watch the webinar here: Industrial Analytics Virtual Seminar
Business intelligence
Back in 2018, Nukon was one of eight Australian companies to become a Foundation Member to Siemens' IoT platform, MindSphere.
Nukon uses MindSphere and its data collection to provide critical business intelligence, and this year became the first Australian partner to be featured by Siemens for a global audience.
Operational performance and efficiency
Attending Total Plant Management (virtually!) this year, our team heard the same issue repeatedly – continuous improvement often comes a distant second to daily management tasks.
This gave us a chance to really flex our muscles and do what we do best – provide you with tools and solutions that can be quickly rolled out and start freeing your team up to focus on improvement activities.
It was great catching up with our partners (and co-sponsors), OFS, at the event. We have worked together on a couple of projects in recent years, and achieved great efficiency results for our clients.
Read more: Real-time data visibility unlocks value for team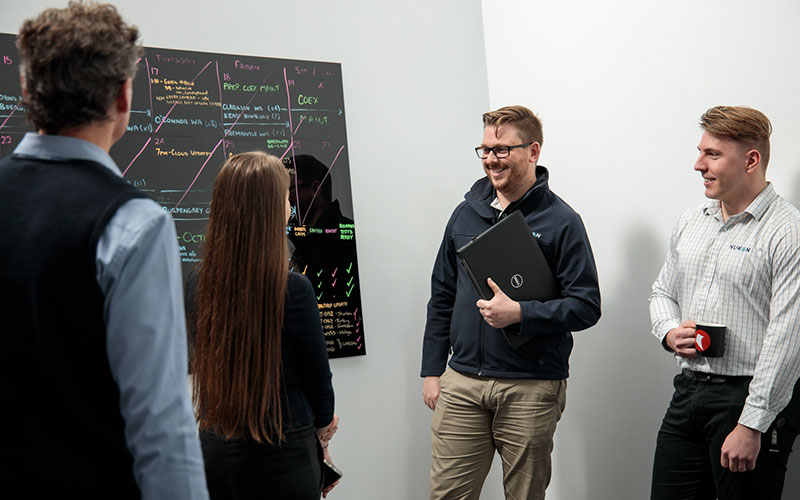 Partner activity
We value the ongoing relationships with our partners, including Pilz, Aveva, Siemens and Rockwell, and look forward to continuing to innovate with them in the new year.
New partnerships
As our capability continued to grow in 2020, we welcomed some new technology partners.
Splunk
Turning data into valuable insights is a real challenge for many industrial operators. Through Splunk, we're able to secure, monitor and maintain industrial IoT, transforming the way our customers do business.
Software AG
Building on Nukon's streaming analytics and IIoT capability, this year we partnered with Software AG. This capability enables the clients we work to obtain valuable data, make sense of it and quickly act on IoT insights.
Nukon Support Desk
In a year where we all spent more time having virtual meetings than in-person ones, our Support Desk continued to be hugely valuable for customers. Knowing there is support available within a 15-minute response time can be a big relief, especially when many organisations were stretched beyond capacity.
Our consultants also moved to remote consultations, ensuring both existing and new clients received the support they needed.
Awards
We're very excited that one of our client's has been named a finalist in the Australian Water Association Awards in Tasmania.
Nukon worked with TasWater to identify and produce a proof-of-concept for an online sewer blockage detection system. The approach leverages live and historical data to provide an online monitoring tool to detect these events ahead of the methods currently available.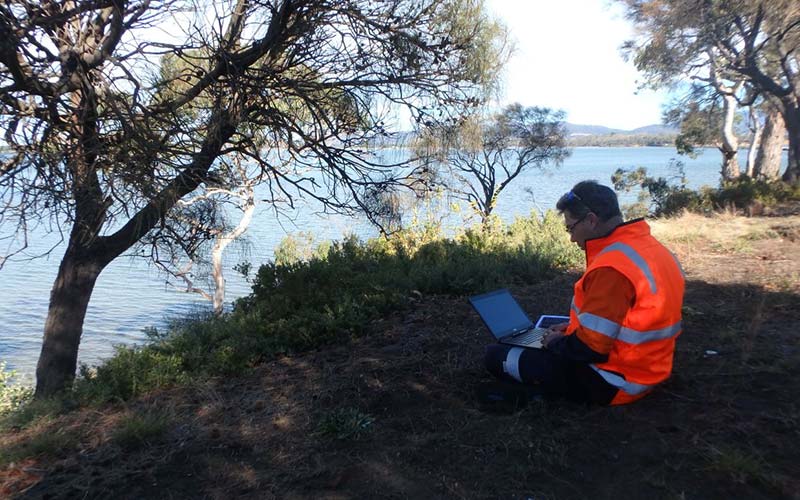 A glimpse of the beautiful area of Tassie the detection system will help to protect.
The online monitoring tool leverages historical data in TasWater's OSIsoft PI System and an advanced analytics engine.

The project featured in an AWA webinar in July.
Read more: Predictive analytics set to prevent spills, save environment
Waste management and resource recovery
New legislation is changing the way waste is managed in Australia and all types of businesses are searching for smarter waste management and resource recovery solutions.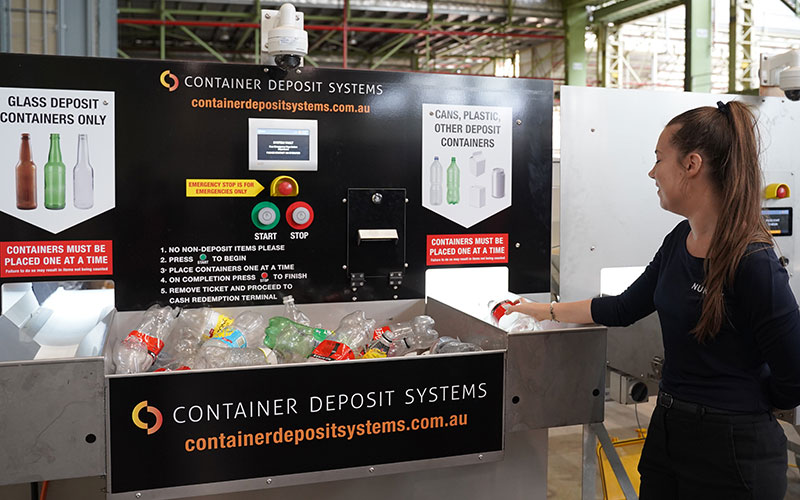 Nukon's Alysse demonstrates Container Deposit Systems' smart recycling system
In addition to our continued support of Container Deposit Systems, Nukon worked with local governments, schools, manufacturers and material recovery facilities. One project involved us delivering a waste compactor accounting and safety access solution for a large shopping centre.
The solution allowed store tenants at the shopping centre to swipe into the restricted safety zone for each type of compactor (for disposal of dry waste, recyclables, food waste, paper etc). The IoT cloud-connected solution records how much waste each tenant is putting into the compactors by weight and how much is diverted away from landfill. Accurate records of waste disposal activity allowed the waste management contractor to charge each tenant accurately for their use of the service.
We're definitely seeing more clients asking for improved data visibility and traceability when it comes to waste streams and packaging – something we expect to continue in 2021.
Community / activity

This year Nukon continued to expand our reach in the water and utility markets, resources, food and beverage, and general manufacturing. We've been able to support clients across all areas of Australia, and are proudly expanding into new regions in 2021.
Preparing the next generation
We've been really fortunate to have some fantastic placement students from Flinders University join us at Nukon this year, and to see them put their learnings into practice.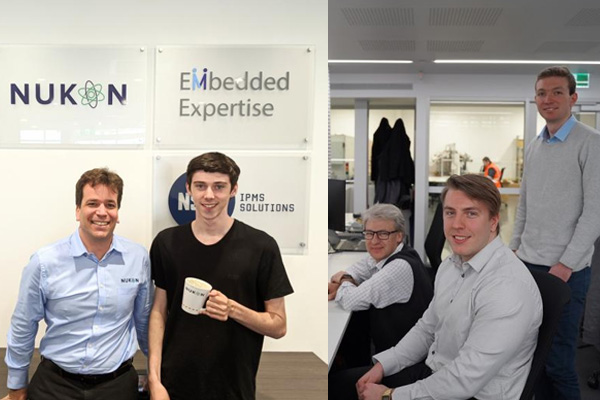 Senior members of the Nukon team mentoring the next generation (and learning some new tricks too!)
Earlier this year, Nukon's Chief Technology Officer, Rafael Amaral mentored two interns from Coder Academy in Brisbane, teaching them about complex digital projects and IoT solutions.
Online security – Boss of the SOC
A couple of our team members got to test their IT/OT security skills in Splunk's online competition, Boss of the SOC. Nukon analyst Scott Schulz joined with SAGE Automation's "SAGE against the machine" team and together the group answered a variety of questions about real-world IT/OT security incidents.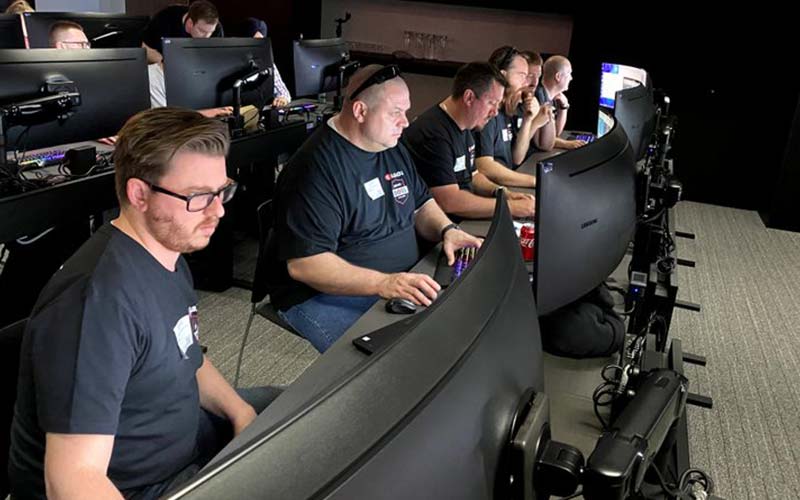 Scott joined engineers from SAGE Automation to compete in Boss of the SOC.
Scott is building his cyber security expertise and it certainly shows - the group ended up in the top 30% for the Asia-Pacific region!
Preparing for an even bigger 2021
Looking back over some of these highlights, there's no doubt it's been a busy year for Nukon. We've adapted to huge challenges, taken on new markets and started to expand ready for next year, which is sure to be even bigger.
Before signing off for 2020, I'd like to thank the entire Nukon team for the incredible work they do, and say a huge thank you to our partners, clients and families.