For the second year in a row, Nukon has been named Seeq's Partner of the Year for the Asia-Pacific region.
News of the award win came during Seeq's 2021 Reseller and Service Partners of the Year announcement on January 18th.
Head of Worldwide Partner Sales at Seeq, Will Knight, highlighted the support and value Nukon provides to its clients, as well as the ongoing investment the team continue to make in their technical expertise as key reasons for the recognition.
"These awards recognise the impact these partners have on empowering our customers to create advanced analytics insights and the standards they have set for excellence in delivering the next generation of process manufacturing improvements," said Mr Knight.
Nukon was named Seeq's Partner of the Year for the Asia-Pacific region in 2020 and is Seeq's longest-running partner.
"We're honoured to be selected as a Seeq Partner of the Year for the second year running," said Alec Konynenburg, General Manager at Nukon. "Nukon prides itself on providing the best solutions for clients, and Seeq's capability allows us to do this through their unique set of offerings. The Nukon and Seeq partnership is built on joint values and commitment to our customers, and we're excited to continue to provide this value in 2022 and beyond."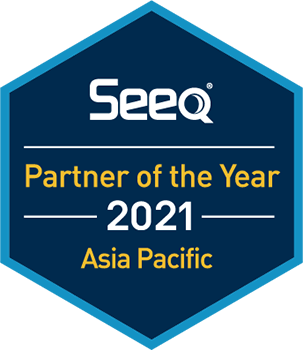 Improving time-to-action with advanced analytics

Seeq's advanced analytics software has been implemented with Nukon clients in resources, utilities and food and beverage environments.
Last year, Nukon Principal Andrew May highlighted Seeq's value during a presentation at AVEVA PI World. Showcasing a pilot project with a local water authority, Andrew explained how the program harnesses the client's historical flow data and uses advanced analytics to detect leaks in the network as early as possible. This provides the client with a real-time, asset-specific leak detection model that can be applied at scale.
In particular, the solution allows for the detection of leaks that are not generally easily determined visually – such as in remote areas or in rocky or poor soil.
The pilot project solution is applicable cross-sector and is useful for industries that have engrained processes with a repeatable and predictable normal operating envelope.
Seeq's analytics software also forms part of Nukon's solution for Newcrest Mining, informing the planning, maintenance and reliability teams of wear rates on crusher equipment. This resulted in increased uptime and greater throughput for the client.
Learn how Seeq's software can be used to contextualise and enhance data analysis. Speak with our Seeq technical experts today.