Nukon is delighted to be named the 2020 Partner of the Year by advanced analytics software company, Seeq Corporation.
The announcement came this week, with Nukon selected from Seeq's global partner network for its excellence in delivering value to customers in the Australian market, its partnership in creating awareness for Seeq, including the Australian (virtual) user forum, and for its technical expertise with Seeq-certified employees training professionals.
Nukon Managing Director Alec Konynenburg said the company is honoured to be named Partner of the Year.
"Nukon prides itself on choosing best-of-breed solutions to fit our customer's unique challenges. We believe the whole story is only as strong as the sum of its parts. That's why we partner with companies whose capability and commitment pairs with ours, such as our strong partnership with Seeq, to provide value to our customers."
Nukon is Seeq's longest-running partner, enabling companies in mining, energy, water, oil and gas, food and beverage and other process industries to contextualise and enhance data analysis from Seeq's tools.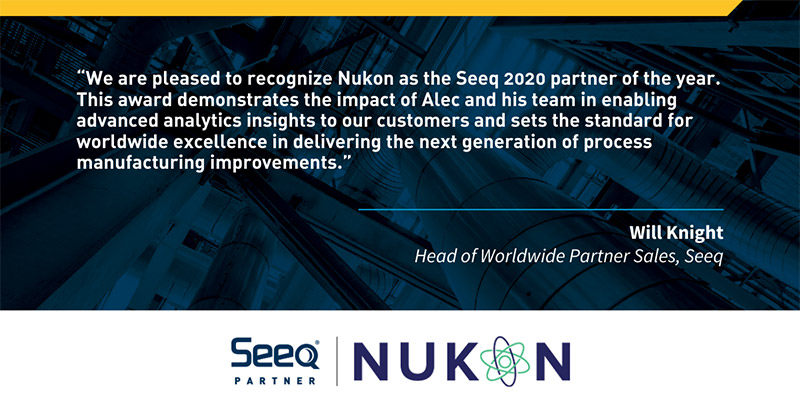 "We are pleased to recognise Nukon as the Seeq 2020 partner of the year," said Will Knight, Seeq's Head of Worldwide Partner Sales.
"This award demonstrates the impact of Alec and his team in enabling advanced analytics insights to our customers and sets the standard for worldwide excellence in delivering the next generation of process manufacturing improvements," said Mr. Knight.
Nukon has successfully implemented Seeq tools across a number of projects, including a blockage detection system that uses predictive analytics to reduce the risk of sewer spills in a Tasmanian waterway.
Nukon also developed a model using Seeq technology for successfully predicting crusher mantle and concave replacements for a mine site in the Pilbara. This analysis enabled condition-based maintenance scheduling and optimised mantle life, without posing unnecessary risk of failure, resulting in increased uptime and more throughput.
This capability crosses many industries, with Nukon also working with a number of Australian manufacturing companies to utilise Seeq data for root cause analysis, anomaly detection, asset performance, predictive maintenance and other use cases.