It's 2018, and Nukon is making waves – and not the kind that you see at the beach. Its unique offering is whetting the apatite of some big brands: Murray Goulburn, Fonterra, Coles, Coca-Cola Amatil, TasWater, and Melbourne Airport to name a few.
And, thanks to current and forecasted market demand the six year-old company is gearing up for a new phase of growth, including investing heavily in talented people to join the nationally located team.
Managing Director and co-founder Alec Konynenburg said this year would be a big one for Nukon and its clients.
"This time next year we're expecting to reach 40-50 percent growth and a revenue of $8-9 million," Mr Konynenburg said.
"We're speaking at the Industrial Internet 4.0 Summit in Sydney, we're launching a new app, we're expanding our workforce and geographical reach, and we're working on some cutting edge solutions for clients."
Solutions like the IoT cloud-based container counting and invoicing system for container recycling depots (CDSA), and the machine learning-leveraged sewer blockage detection system helping TasWater detect blockages before they occur.
"It's exciting the see the team delivering such innovative solutions using a mix of best-of-breed technologies," Mr Konynenburg said. "In an emerging industry experiencing rapid growth, we're offering new solutions to customers all the time – our engineers and programmers and project managers are consistently challenged.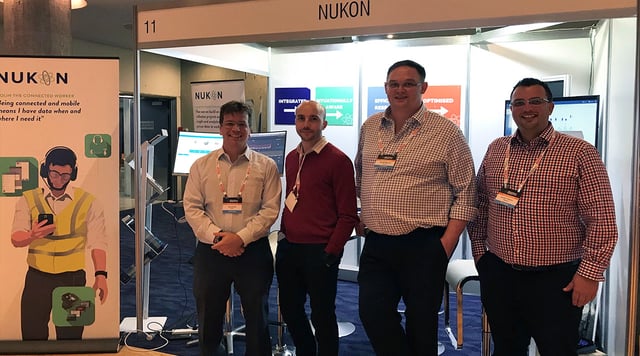 From 'two man band' to multimillion dollar company
'Nukon' began as two employees from opposite sides of the tracks: Alec from an international technology vendor and Geoff Nunan from food and beverage manufacturing.
Both were frustrated with traditional approach to digital project implementation. Both decided that it could be done differently – with far better outcomes for the customer.
Thus Nukon was born.
"We attracted like-minded people, and many of our first clients were those who had tried it the traditional way and realised it wasn't working," Mr Konynenburg said.
From there Nukon's growth has snowballed from about a million dollar in revenue by the end of its first year in 2015 to $5 million in 2017 – which can only be seen as an indicator for clients' shifting expectations"
In a strategic merger in 2016, Nukon joined forces with Australia's largest control system and automation integrator SAGE Automation. It's a move which allows Nukon to remain specialists in digital transformation while allowing SAGE to lead the market in control system engineering.
In 2017 Nukon was awarded the Business Innovation Excellence Award by global data integration leader TIBCO for its ground-breaking IT-OT integration solution for Melbourne Airport.
It is fast becoming the expert in product traceability and authentication, performance monitoring for Automated Guided Vehicles and live traffic, time-series database management and analysis, machine learning and predictive analytics, and whole-of-business systems integration to name a few.
"Our employees get to use a blend of technologies from traditional MES systems through to the latest cloud services like AWS Rekognition, powerful business process orchestration tools, disruptive technologies like Influx and Mongo, and low-cost but versatile devices like Raspberry Pi," Mr Konynenburg said.
The Nukon way
There's no denying the kind of future-proofed, flexible and scalable solutions clients want today need a different method of working.
"We've responded by doing agile process delivery, using modern tools and software packages that are available more widely in the market, and using modern protocols and programing," Mr Konynenburg said.
But he says, the most important part is in building strong, long-term relationships.
"That way we can produce the best results over the long term versus more traditional methods that see contractors vanish as soon as a system goes live."
"We don't ask for the upfront investment – we deliver through agile, which means we break up the work into 'iterations' where clients can review, modify, budget and control the outcome as the project is delivered," he said.
As for the future Mr Konynenburg is just happy that, "the way we do things 'the Nukon way' has scaled and stuck with the company".
"It's about the relationships and how we approach problems, it's about being innovative and changing if something isn't working, and it's about well-thought out and different approaches that are properly executed." he said.