Thousands of customers travelling through Melbourne Airport each day are unknowingly enjoying a smoother airport experience, thanks to a ground-breaking real-time data integration solution which has turned heads in the tech industry.
So much so that Nukon, the business optimisation company responsible for delivering the project, was awarded the 2017 Business Innovation Excellence Award by global data integration leader TIBCO in March. The project integrated the airport's operational technologies (OT) and information technologies (IT) systems, such as baggage handling, aircraft real-time position and customer check-in, to provide a representation of all operations. Now, the airport can monitor operations in 'real-time' in an effort to improve the customer's journey. Nukon Senior Consultant and Project Manager Andrew May said the project was a unique use case for a highly collaborative real-time business intelligence solution. "The fact that we are merging OT and IT systems using a whole range of technologies and the way we've applied their [TIBCO] software is what makes it innovative," he said. The project was also unique in that it drew on the expertise from so many different organisations – staff from TIBCO, the Melbourne Airport and its many external service and system providers all collaborated with Nukon.


Melbourne Airport: we needed 'awareness' in real-time
From the offset, Melbourne Airport required a view of the entire airport's operations – from customer arrival and baggage carousels, to ground operations and flight scheduling. Nukon's Situational Awareness Platform allowed such a view. The platform integrated multiple siloed IT and OT systems into a user-friendly interface. The aggregated data is presented on a wall of screens in the airport's new Enhanced Airport Coordination Centre (EACC) and can also be displayed on a desktop computer or mobile device.
Now, airport managers, operators and external providers can visualize potential opportunities or threats that might affect the customer's journey through the airport, and plan and react accordingly. All of this, of course, remains invisible to the customer.
In addition, airport operators can see moving assets (ground vehicles and aircraft) in real-time; see the status of assets such as check-in counters, baggage carousels, and building services; and explore 'what if' scenarios through data and business logic modelling to name a few. "Prior, the airport couldn't show work orders in a geospatial context, now they can. Now they can see aircraft movements in real time on their airfield, whereas this wasn't possible before," Mr May said.
Integrating IT and OT systems: how they did it
Operations at the airport serve a diverse range of functions, from landside transport through to aircraft real-time positioning, vehicle information, vehicle flow, flight schedules, fire systems, building management systems, services, and baggage handling. As such, multiple technologies were used by the team to integrate these silos. TIBCO BusinessWorks was used to adapt data from external systems, while TIBCO StreamBase and Live Datamart were used to interpret, aggregate and publish incoming data streams. The addition of Inductive Automation's Ignition SCADA system allowed automation capabilities and integration of operational technology sources.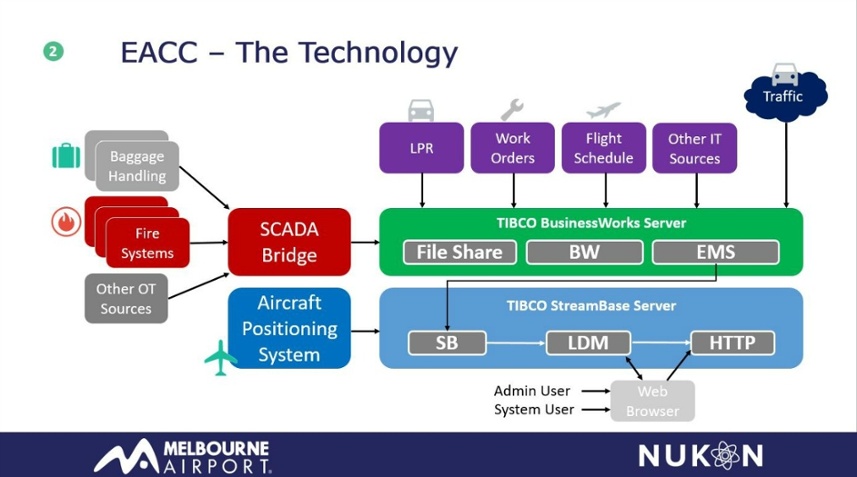 Real-time business intelligence at play: The situational awareness platform at Melbourne Airport's Enhanced Airport Coordination Centre (EACC) integrates disparate IT and OT systems to allow a real-time view of all airport activity.
The general approach was to capture, process and 'clean' relevant events from each disparate system and publish them to the live visual application. From there, the data could be merged, and integrated with business rules, giving operators a consolidated view of those events in real-time. Mr May said without the level of integration this task would be challenging. "You would need to have a very large number of screens and consult a large number of systems all at the same time. It would be practically impossible to do on a desktop in real-time," he said.


Customer benefits invisible but endless opportunities await
Although customers are likely to benefit from the system through decreased wait times at check-in and increased services during peak times; such as security checks and amenity availability, more often than not, they'll likely remain blissfully unaware of the systems in place that make it all happen. He said the technology lays the foundation for more 'visible' customer benefits such as phone applications that personalise the customer journey through real-time notifications of updates to flight schedules, dynamic wayfinding, customer feedback collection, car parking, peak airport times, location-enabled services and personalised retail offers.
'Digital Smarter' conference awards
The 2017 Partner Excellence Awards were presented at the TIBCO NOW 'Digital Smarter' conference in Singapore.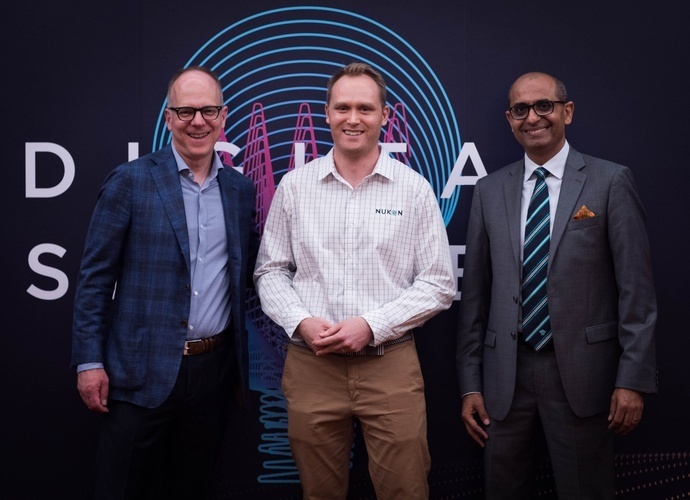 Award winners Murray Rode (TIBCO), Andrew May (Nukon), Gaurav Dhall (TIBCO) in Singapore, March 2017.
Digital transformation consultancy Cognizant, and electronic engineering company Toshiba also picked up awards at the conference, which was the Asia-pacific contingent of a global series. TIBCO said the awards recognised partners who use its technology with 'exemplary innovative solutions and services'. Mr May and Melbourne Airport's ICT Strategy, Planning and Architecture Manager Vic Raymond presented their success case at the conference.


Real-time business intelligence into the future

Mr May described the current system as an "an application ecosystem that's vendor agnostic", meaning it can connect to any program or platform, and said it, "allows integration to almost any IT or OT system including the Internet of Things." The solution has real use applications to industries such as mining, roads and transport, supply chain and infrastructure, but Mr May offered some food-for-thought for operators seeking to enter the 'digital' landscape. "At this stage the technology and integration is ahead of people and process," he said. "The people and the process component is often underrated and it can be a significant source of failure for some projects. People and process is something that needs to be considered all the way along the journey. We need to help them adapt to this new landscape." Nukon have an ongoing relationship with Melbourne Airport and will continue to seek improvement opportunities using the technology.
"The goal is to reach full collaborative decision-making between airport operators, service providers, stakeholders and airlines to improve quality of service to customers," Mr May said.
He suggested any business wanting to implement a similar system should think in terms of scale: start small, apply the right foundational systems and then choose when to expand at relatively low cost. "You don't have to bite off everything at once, you just need to take on a subset of those systems and then expand the solution incrementally," he said.