We are in the midst of a digital revolution, dubbed by founder and executive chairman of the World Economic Forum, Klaus Schwab as the "Fourth Industrial Revolution".
Schwab wrote:
"We stand on the brink of a technological revolution that will fundamentally alter the way we live, work, and relate to one another. In its scale, scope, and complexity, the transformation will be unlike anything humankind has experienced before. We do not yet know just how it will unfold, but one thing is clear: the response to it must be integrated and comprehensive".
While we see evidence of the Fourth Industrial Revolution - or Industry 4.0 - all around us in our daily lives, manufacturing has been slower to adopt the transformation. But the truth of the matter is, manufacturers who don't adopt a digital transformation mindset risk being left behind in the dust.
One aspect of Industry 4.0 is the Industrial Internet of Things (IIoT). At its core, IIoT is about using data from connected devices to generate data-driven insights. IIoT facilitates the convergence of IT and OT operating systems, bringing siloed information streams together for more powerful data analysis and modelling, opening up the possibility for better automation and machine learning.
A few of our team (principal consultant Damian Jolly, senior consultant Andrew May and analyst Tom Hollingworth) give their thoughts on where it's all headed.
What impact are IIoT and digitisation having on manufacturing currently?
Damian: With the increase in exposure to personal and social technologies, more people have the expectation that manufacturing technologies can and should be better. All manufacturing workers from managers to machine operators have experienced technology at home that interacts and exchanges information intelligently. You can, for example, connect a smartphone to a smartwatch, a smart TV and smart appliances. They understand this is possible and can see opportunities for manufacturing systems to follow suit.
Andrew: Technology is so ubiquitous in our daily lives that recent university grads are often surprised that the level of sophistication in Australian manufacturing is often below expectation.
The focus around IIoT and Industry 4.0 is placing the spotlight on digital transformation and digital readiness – which is a good thing since traditional manufacturing seems to struggle with low levels of organisational maturity concerning plant floor integration, process analytics and information management.
Thankfully, the combination of low-cost sensing technologies, cloud and edge computing, and an increased focus on the digitisation of operations has seemingly created the perfect storm to challenge traditional thinking when it comes to the plant floor in the key areas of:
Manufacturing information systems
Real-time data collection, aggregation and management
Tracking, product genealogy and batch management
Supply chain validation, visibility and tracking, and anti-counterfeit measures
Production scheduling and management
Process data analytics
Machine utilisation
Automated materials handling and warehousing
Manufacturing flexibility, efficiency and utilisation
Converting non-productive time into productive time
What effects can IIoT tools and Industry 4.0 have on organisations' operations?
Damian: A core principle of 4.0 is the ability to rapidly and repeatedly prototype and test ideas. Cheap hardware and open-source software, combined with cheap and simple ways to move and store data (the internet), has made companies more agile and flexible. This directly supports initiatives to reduce costs and provide more automated solutions.
Andrew: The main benefits include streamlining operations, reduced waste, faster insights (from hours to minutes), better visibility, improved response times, reduced administration, and improved machine efficiency. There's also a reduction in data wrangling (e.g., spreadsheets and manual reporting) and the ability to automate low-value, repetitive business processes.
Tom: The time to deploy new proof of concepts or pilots has been reduced from days to minutes. Changes can be implemented in minutes, not hours.

In your opinion, what are the 3 best IIoT/Industry 4.0 tools?
Damian:
1) The internet! The internet is the most pervasive network in the world. The Internet provides opportunities to move information between systems in multiple ways cheaply, which didn't exist 10 years ago.
2) System on a Chip (SOC): This is one of the most exciting technologies developed in the last 10 years. Using the mass-produced framework of mobile phones, we have access to very cheap (less than $50), very small (about the size of a pack of cards), powerful computers. That's a full-blown computer with network connectivity, WiFi, HDMI, sound, storage, processing and general-purpose I/O, which is very useful in manufacturing. When combined with open-source software, this has the potential to reduce the price of operational technology solutions by 100 times.
3) Open-source software: Its time has finally come! The quality of open-source software today is outstanding – not to mention a lot of it is free! Commercial, proprietary solutions need to beware – open source is often cheaper, better supported, more secure, and has better features.
Andrew:
1) The machine and enterprise data model: This allows you to contextualise data published by assets in a meaningful way, compare them easily and make that information easily consumable in the enterprise. Without a strong foundational data infrastructure that can scale and adapt quickly to changing business needs, the impact and reach of change will be limited.
2) Real-time event and time-series data capture and storage that leverages machine and enterprise data: The ability to capture events and plant information in real-time enables some key capabilities:
Real-time decision-making and improved responsiveness
Better ability to understand the past
Better ability to predict future events
3) Operational Intelligence and Business Systems integration that leverages real-time event and time-series data: By applying new data science techniques and computing power to manufacturing operations, new levels of efficiency (e.g., waste, energy, time, machine performance, yield), quality (e.g., RFT, FTT) and customer service levels are attainable.
Tom:
1) Message Queue Telemetry Transport (MQTT): A very simple and lightweight messaging protocol, designed to minimise network bandwidth and use limited power, while still being reliable. As such, it gives a voice to cheap devices and reduces the cost of instrumentation and actuation.

2) WebSockets: Unlike the request/response paradigm of HTTP, WebSockets is a computer communications protocol that provides bi-directional, full-duplex communication channels over a single TCP connection. This allows for real-time data to be published and subscribed to, providing up-to-date, information-rich dashboards at a glance.

3) Cloud-based infrastructure: The beauty of the cloud is that collaboration can happen from anywhere. Experts can remotely access the infrastructure to provide their expertise, reducing the cost of acquiring that expertise, and new services and products can rapidly be deployed.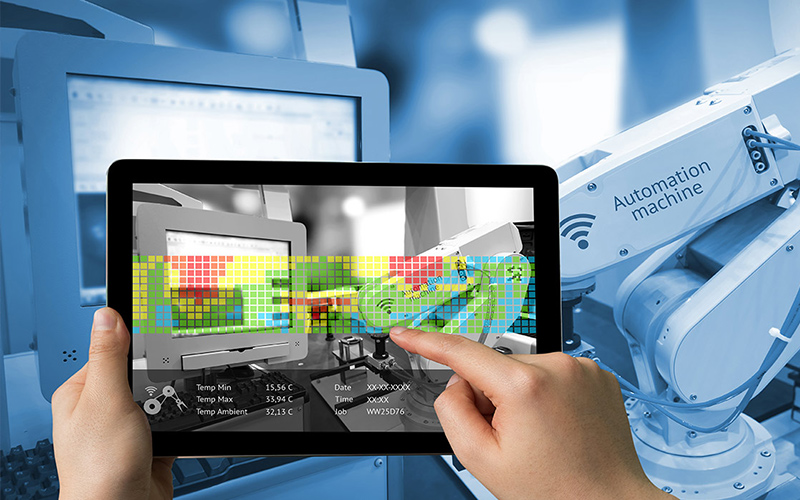 Do you have any advice about how to successfully integrate digital and IoT capabilities into your operations?
Damian: I would say:
Be open to new ideas
Do things differently
Andrew: Follow these key steps:
Understand the problem you are trying to solve, and apply the solution
Assess the business value/risk
Model your assets
Connect your assets
Collect the data in real-time and apply context
Use the data effectively to take action and generate insights
Make the data available to the enterprise to gain even more insights and generate new ideas
Some other things you should consider are:
Have a digitisation strategy
Ensure your applied solution is adaptable as things are subject to rapid change
Data without context will not be useful or used - make sure there is a reason to collect it
Don't collect everything, or you'll just drown in data without generating new insights
Apply widely accepted industry standards to accelerate development and aid interoperability
Use "open" solutions that support a variety of relevant hardware and software connectivity standards
Think about supportability: keep it simple, don't overcomplicate things
Apply models and templates generously to ensure repeatability, comparability and fast deployment
Develop and deploy incrementally
Consider security and hosting of your data, including data sovereignty
Tom: My advice would be to:
Understand your business and manufacturing workflows and look at what should be automated
Assume everything can be automated
Reflect on what information people require at each decision point and provide them with what they need automatically
Tend towards event-based notifications as opposed to users frequently reviewing reports and dashboards
---
Successful integration of your IT and OT systems is one step towards increased visibility, and being able to adopt more complex 4.0 digitisation and IoT solutions. To do this, you'll need to have a thorough understanding of what's involved.
Download our free cheat sheet, The Opportunities and Risks of Integrating IT and OT Manufacturing Systems to get started.