Micrologistics is a relatively new idea in supply chain circles. While it may conjure up images of miniscule people maneuvering their wee bags of produce to their tiny cottages, in practice the idea is actually much bigger.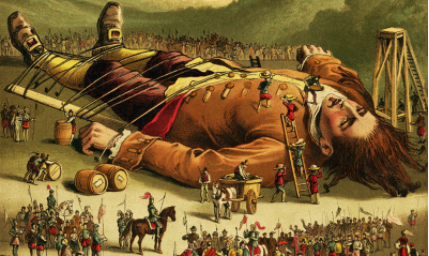 This is not micrologistics
Micrologistics is essentially the response to increasingly sophisticated customer demands. With a wealth of information about products at their fingertips, customers are exposed to a global variety of products. As such, they demand that their products are of good quality, that they come quickly and that the price is competitive. John Santagate, Research Manager, Supply Chain at IDC Manufacturing Insights noted:
'It is no secret that the supply chain of today is vastly different from the supply chain of the past. The customer today has much more power in the buyer/seller relationship, as compared to the past, due to the abundance of information available and an increasingly competitive environment. This fact is driving manufacturing firms to identify additional sources of competitive advantage by which to better satisfy an increasingly demanding customer.'
These stipulations have meant that manufacturers have needed to reevaluate the way their supply chain operates, moving away from a traditional DC model. This is where micrologistics come in. The practice has been described as a network approach where a business sets up a series of smaller, localised warehouses. Having the warehouse close to various customer groups allows businesses to provide a stellar customer experience as well as unearth specific insights about their products and their processes. Below we look at how micrologisitics could impact a manufacturing operation.
Better delivery time
One of the most obvious benefits of the micrologistics model is delivering your product closer to your customer, reducing delivery time. Due to the trend set by businesses like Amazon, quick delivery is no longer a perk, it is an essential part of an organisation's service. According to research done by internetRetailer, same day delivery is becoming increasingly important. In fact 19% of those surveyed considered it so and 4% would refuse to purchase the product if it couldn't be delivered on the same day. The research also found that most interviewed expected to wait 2-3 days for delivery. Therefore having a warehouse close to your customer allows you to meet current expectations, as well as having a setup that can adapt to the pace of market.
Reduced costs, better customer value
Keeping shipping costs low should be a key priority for organisations. In fact, according to research undertaken by AlixPartners, high shipping cost was the second biggest reason customers would abandon a purchase (36%). If you have regional warehouses you mitigate the cost because the product is closer to your customer.
Better inventory control
Informit describes inventory movement as being 'the heart of the relationship between the manufacturer and their client, because it facilitates supply. A micrologistic supply chain mitigates this, because you get very specific information about the customers in that location, and their buying habits. This information allows manufacturing operations to be more strategic in supplying the smaller warehouses, as well as giving you a broader snapshot of product trends, allowing you to make better decisions about production.
The challenges of a micrologistic setup
While the benefits are undeniable, implementing a system like this takes a significant investment in people, processes and technology. Supply Chain Quarterly notes:
'An increase in the number of distribution nodes, naturally, will require a concurrent increase in people to operate and manage them. For companies to get a good return on those added employees they will need to ensure that people are working as productively as possible ... Additionally, companies will need a robust integrated business planning (IBP) process that includes regularly scheduled network evaluations and network-optimisation planning. All of this will be dependent on technology that can provide network visibility and accurate inventory and cost data.'
Having said that, it's an investment many manufacturing businesses are making. The IDC Manufacturing Insights Report estimates that by the end of 2017 '50% of manufacturers will explore the viability of micrologistics networks to enable the promise of accelerated delivery for select products and customers.' They are understanding that if you want to take on the world you must do so one small step at a time. If you would like to know more about how technology is changing the manufacturing industry, as well a deriving more value from your operations, then download our guide to driving operational efficiencies through real-time data today.