Disruption. Unprecedented change. Uncertain times.
I'm certain most of us have seen these terms used multiple times per day over the last few months.
While rethinking how we do business and how problems are solved has become the norm right now, the need to quickly adapt to changing conditions likely wasn't a long-term strategy for your business.
Now is an opportunity to keep momentum going, to put ourselves in the best possible position and continue our digital transformation projects.
What does this mean for companies that find themselves stuck between knowing change is needed, but uncertain how to take action?
It might seem a difficult time to bring in an external consultant. However, if you don't have the bandwidth or internal digital capabilities to begin or to continue a transformation project, a digital transformation consultant can add perspective and value, among other things.
We've broken down some of the key benefits of engaging with an external digital transformation consultancy.
How will a consultant understand how my processes work?

Each company has their own processes and challenges. While there are similarities across some industries, understanding how your process currently works makes for a smoother road forward. We don't pretend to know more about your business than you do, that's why we consult with and involve your teams throughout our engagement – to learn as much as we can.
When a Nukon consultant steps into your business, their goal is to listen to you and your team to get a good picture of how things operate. Our consultants take a walk around your facility and try to understand the root cause of any challenges, drawing on their industry knowledge to come up with a concept and a plan to move forward.
From here, we can begin solving the critical problems one at a time, or we can work with you to build a comprehensive transformation strategy. Our team can even help with the execution of this strategy, with scope to build and scale opportunities across other areas of the business.
A knowledge transfer works both ways, so we welcome your questions on some of the different approaches we can take.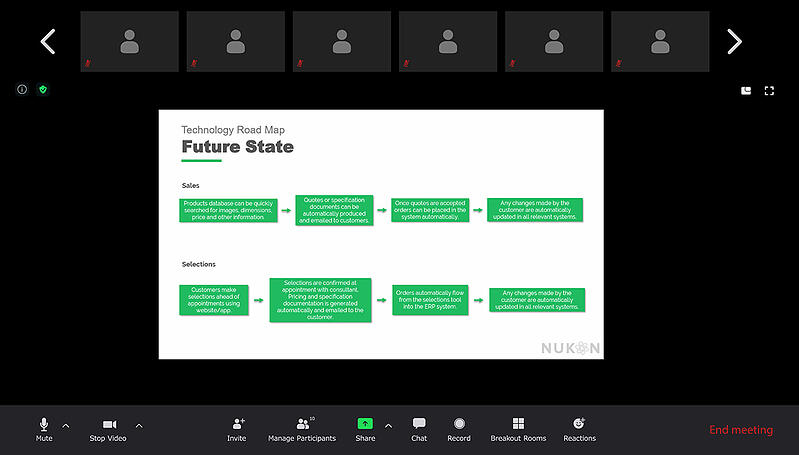 We walk your team through a complete technology road map, outlining each step of the process.
How do we make sure our internal team is engaged?

Achieving alignment across the various teams involved in digital transformation sounds like a pipe dream, but it can be done.
Gartner conducted a survey and found that while organisations plan to integrate IoT and IT technologies into their OT systems, many don't have the skills, expertise, or time to drive the alignment between IT-OT departments. They predict that by 2050, up to 50% of OT service providers will develop key partnerships with IT-centric providers for IoT offerings.
Engaging with a consultant means you benefit from their understanding of some of the common problems they've encountered in this process. At Nukon, for example, we have consultants who are data centre and IT infrastructure experts. Their knowledge helps to breakdown potential silos between departments and ensure we're taking into account the best practices for cyber security. When combined with the operational experience our team possesses, our clients are assured of an outcome that works in an operational environment, not just in a demonstration.
As we touched on earlier, Nukon spend time talking with your internal team, and that includes your IT department. We know the value of bridging the gap between operational technology and information technology and our team includes people who can speak both 'languages' for this reason.
Read more: Why business intelligence will help align IT and engineering departments
How quickly will I start seeing value?

We get it; you're under pressure to get ROI.
When clients start chatting with us around their business challenges, the "how soon" question comes up pretty early on.
The good news is we are committed to achieving quick wins and adding value back into your business as soon as possible.
In some cases, a minimal viable product can be delivered as quickly as 2-3 weeks, with the learnings from this stage driving further value as the solution is built out further.
An example of a quick win – Data is critical to making better decisions around your business, but to do this, you need key stakeholders to be able to access that data easily. Working with a consultant and digital delivery specialist enables greater context and better insight into your operations.
For companies that are reliant on operational data to present in reports or meetings, having a single repository as a source of truth helps you to build your capability for reporting, performance visualisation and analytics.
Below is an example of how this stage can work:
Requirement gathering
An Australian manufacturer who wanted greater visibility and access to their operational and performance data from multiple systems approached Nukon. Through a process of consultations and requirement gathering, Nukon identified and implemented a solution that would streamline the data integration process and increase information sharing.
Win for the client: Increased information sharing and a streamlined data integration process.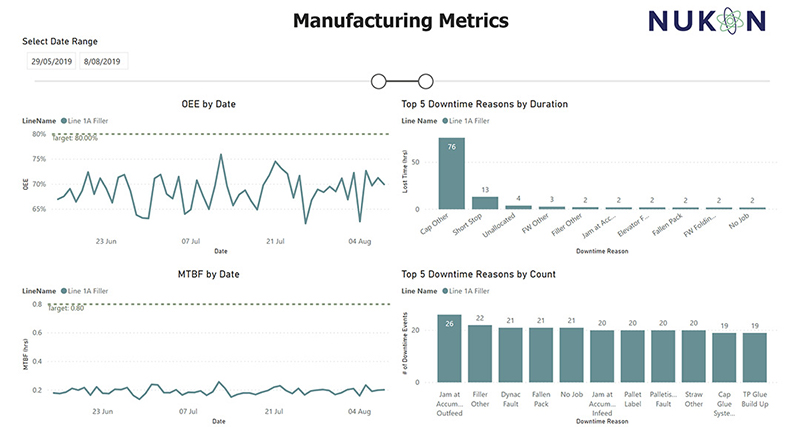 Nukon worked with the client to streamline data integration and deliver
easy-to-read dashboards that could be quickly shared across the business.
Making data meaningful
The manufacturer was already using OFS software, so Nukon leveraged the wealth of downtime and quality data collected. This was combined with other information such as energy consumption/prices, DIFOT (logistics KPI), and production volume attainment.

This data is visually represented in an easy-to-read dashboard that stakeholders, the production team and business owners can refer to.

Win for the client: Greater access to data and automatically generated reports without manual data entry.

The end result:
• Hours of manual data entry no longer required
• Client has real-time data visibility to enhance production efficiency
• Accurate real-time data is accessible to any stakeholder within the business, ensuring no gaps in knowledge
• Data is structured to display in-line with client's requirements.

Read the full case study: Real-time data visibility unlocks value for team

What happens from here:
With the retrieval of real-time data, manufacturers in this stage of the process can work with their consultants to optimise the metrics being monitored. Combining data sources enables the ability to drive new insights, which might include a comparison of energy efficiency when running different products.

Continuing to build from this point could include the collection of more information in 'problem areas' of your operation. By identifying and targeting further areas for improvement, you can begin planning for the next stage of improvement, such as an MES upgrade or the roll out of process automation.
How do know I'm getting the right solution?

Successfully digitising your business requires a combination of software and implementation expertise, and it's incredibly valuable to work with someone solves complex business challenges by working with you to identify the key partner who will transform your business.

Nukon is technology independent, working with a range of open source and proprietary software, hardware, programming languages and database technology. We have great relationships with our technology partners, but if you're already working with a someone in a different technology space, we can connect with them too.
When our team recommend a solution, we do so because we firmly believe it's the best solution for your business and your business needs.
Knowledge, value and perspective during your digital transformation project

The biggest benefit of working with a digital transformation consultancy and delivery company is the ability to drive long-term impacts and continuous improvements within your business.

Particularly in the current climate, bringing in an external consultant can be met with some reluctance, as there's a fear it can quickly become a high-cost, low-value engagement. Nobody wants to be given a generic action plan that's difficult to implement, takes months of discussion and leaves you with little support once rolled out.

Nukon's approach is much different. We bring a combination of industry-based technical knowledge and implementation experience, as well as an understanding of the critical strategic environment you work in.

Our job is to find the best way forward together. When you're ready to get started, reach out to our team.
Interested in learning more about the way we can unlock value in your business with quick wins? See how Nukon helped our client cut hours of data entry while increasing access to valuable reports.