Nukon is excited to be partnering with TilliT as its premiere software integration partner, becoming the first Australian partner.
Continuing to ensure Nukon clients have access to the best-of-breed solutions to fit their unique challenges, TilliT joins several industry leaders around the globe, enhancing manufacturing operations. Nukon partnerships focus on the 'better together' philosophy by providing solutions that deliver real business impact.
With its lightweight execution, TilliT is fast to value, fast to implement and is designed to be all that is needed for manufacturers to digitalise.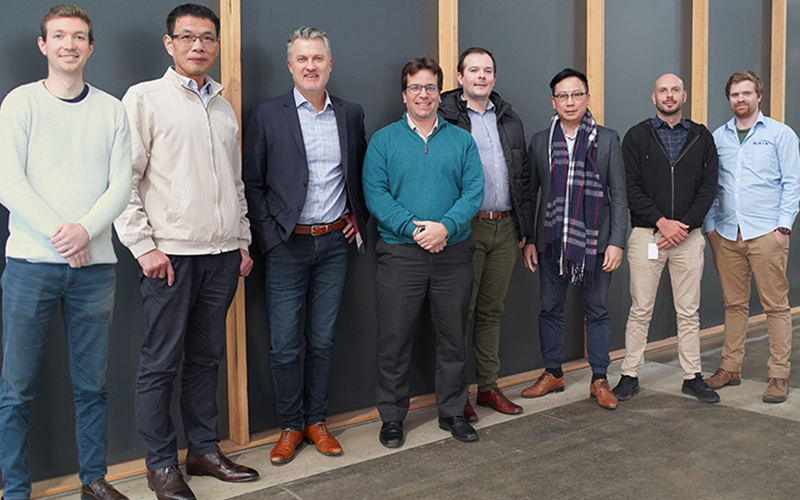 The TilliT team consisting of (from left): Brodie Moran, Weidong Fang, James Balzary (Co-Founder & CEO), Rafael Amaral (Co-Founder & CTO), Devin Reeks, Alvin Yim, Gui Keller and Kieran Waller.
TilliT: manufacturing's do-it-all digital platform
TilliT provides a Software as a Service (SaaS) and Internet of Things (IoT) solution for manufacturers of all sizes through its powerful – yet easy to implement – digital factory suite. It provides an integrated way to plan, execute and analyse manufacturing processes, orchestrating people, machines, material, and tasks.
It provides visibility of asset and manufacturing line performance, directs the execution of events and orchestrates activities necessary to manufacture any type of finished good. It also handles quality checks, production scheduling and digital workflow with a focus on real-time visibility. TilliT delivers easy-to-understand, flexible and powerful digital tools in one integrated platform.
Nukon is a key implementation partner of the solution and represents the first distribution and implementation partner, with TilliT planning to announce further global partners in coming months. Rafael Amaral shifts from Nukon to TilliT as the Chief Technology Officer and will drive an accelerated roadmap to build on the current released tech platform.
By introducing TilliT as a software partner, Nukon is better positioned to offer affordable, scalable solutions for a wider range of manufacturing clients, from SMEs to large enterprises.
Nukon General Manager, Alec Konynenburg, says while the platform is designed to be "all you need" for an SME, it provides manufacturers of all sizes a "what you need" platform, meaning you won't get – or pay for – software you don't need.
"TilliT is a lightweight, fast to implement, fast to value, execution digital-based platform that is designed to be all you need for an SME and provide value to bigger companies who have been oversold in the past," Alec said.
TilliT and Ailytic join SAGE Group
TilliT joins SAGE Group as part of SAGE's strategic expansion to deliver SaaS and associated IoT hardware solutions for customers across the broader manufacturing industry and help accelerate their digitalisation journey.
SAGE also recently acquired the Adelaide-based AI software company, Ailytic. The Ailytic AI Scheduler is a modern, flexible and powerful tool for optimising detailed schedules in food and beverage, plastics, steel manufacture, electronics and other discrete industries. The tool is already used by a diverse range of Australian and global manufacturers.
"TilliT will be a standalone organisation within the SAGE Group, bringing together two existing software products – TilliT Digital Operations and the Ailytic AI Scheduler to enable us to continue focus on the development of smart manufacturing solutions," SAGE Group Managing Director and CEO, Adrian Fahey said.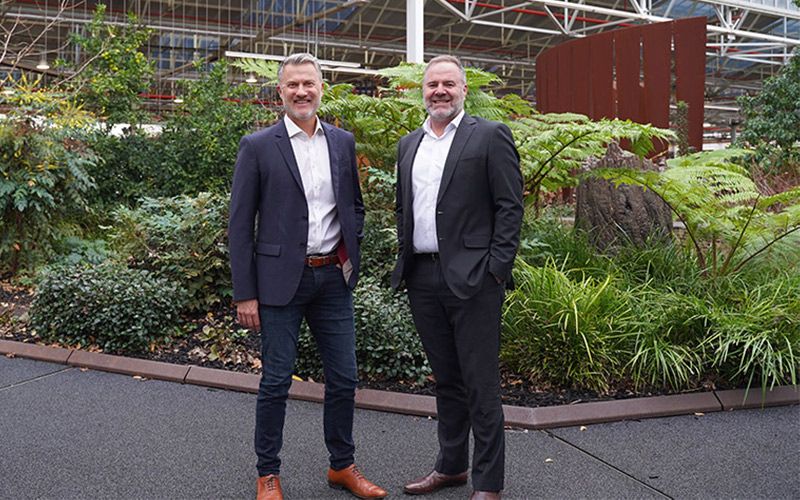 TilliT Chief Executive Officer James Balzary (left) with SAGE Group Managing Director and Chief Executive Officer Adrian Fahey.
Ailytic founder James Balzary, will head up the TilliT business in the role of Chief Executive Officer.
"This is an exciting step for the team which will allow us to enter new markets, build new channel relationships and ultimately service current and future clients with an expanding portfolio of innovative software technologies," James said.
"The newly expanded TilliT platform can operate standalone between the ERP and the Machine Control layer to digitalise the operation or co-exist with existing tools in place due to its flexibility and ease of deployment as a cloud solution."
An expanded offering for Nukon clients
While the teams are coming together to incorporate this expanded offering, it is business as usual without disruption for Ailytic, TilliT and Nukon customers. Nukon has years of implementation expertise with highly qualified people that will assist in a smooth transition to market for new and existing customers – from start to end, and beyond.
Tasked with overseeing the TilliT implementation will be the steady hand of newly appointed Nukon Principal, Richard Cuthbert. Richard brings a wealth of experience from his background in engineering and management, and joins Nukon having most recently spent eight years in various leadership roles at Tetra Pak.