Most people picture AI and machine learning when they think of 'digital transformation'. While these initiatives do have exceptional promise for many companies, the pathway to gaining benefits from them can be costly and uncertain. In reality, AI and machine learning are tools to enable businesses to achieve the final 10% of maturity in their operations.
So, if your business is not reaching that 90% efficiency potential yet, you may be more interested in exploring the fundamental components.
Our team at Nukon love working with clients in this area — identifying where your business needs to start to take advantage of digital operations. This allows for integration of processes and automated workflows to bring increased output, quality and consistency to production, a huge advantage for the business.
In order for companies to meet higher expectations from customers, they need to explore the digitisation of their business processes. While there is a lot of enthusiasm for using the most advanced technologies (such as machine learning or AI) to meet this demand, there is a lot that can be done with simpler and less risky tools.
Finding the starting point for digital operations
The path to reaching full digital operations can start with small, isolated processes being implemented in the business.
For some businesses, this might mean transitioning from analog to wholly digital processes — namely, moving from paper to systems. This is crucial for any digital transformation journey. A digital system is a necessary step to facilitate upper stream, high-end solutions like machine learning, simulation and optimisation. Without access to a robust and reliable data source, the investment in these digital technologies and solutions might not deliver the return that the hype has led business stakeholders to expect.
By making gradual changes to the current process, the business can grow and scale in a sustainable and risk-free way, while providing staff with tools to enhance what they can do.
In this blog, we're going to examine how workflow automation fits into a digital operation and creates a link between people, systems and machines.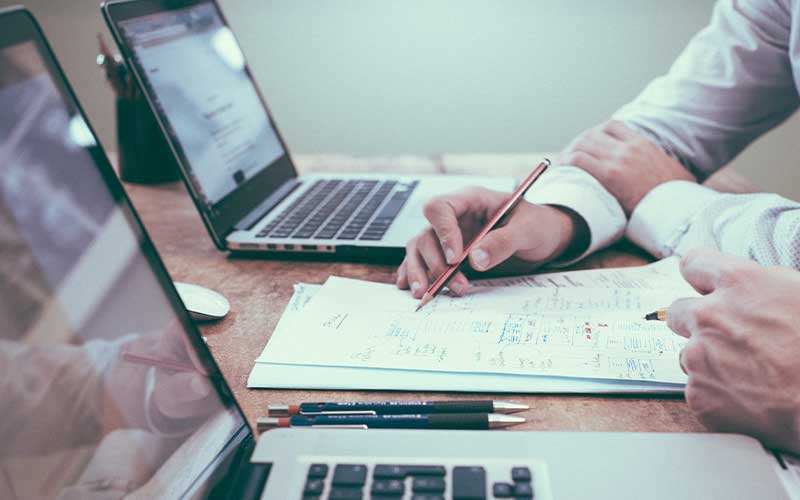 A starting point for many businesses who want to integrate workflow automation may begin with moving from paper to digital systems.
Workflow automation as a tool to achieve digital operations
The concept of workflow automation was big in the 80s, when it was used to speed up tasks like invoice processing for accounts payable. Advances in computing and algorithms means workflow automation tools have become more advanced, they run faster and are now easier to integrate with other components.
Business process modelling and notation (BPMN) is a graphical representation that can model a process to orchestrate systems, machines and people. With the right tool, we can execute this model and bring it to life.
Some typical workflow scenarios you might be familiar with are accounts payable or HR processes such as leave requests or travel expenses — in fact, there are a number of ways to strategically automate internal business workflows. But once you integrate BPMN with signals and events from devices, machines and control systems, you can now start to use it in an industrial operations environment.
An example will help explain how process automation works to address specific problems
A typical scenario still seen in many companies is having a set of fit-for-purpose applications, but they are part of disconnected and often siloed architecture (or group of systems) that requires accessing multiple programs in order to complete an end-to-end process.

As the graphic above explains, the level of manual work to execute any processes can be time consuming and error prone. This method is also heavily reliant on operator knowledge and attention to ensure tasks such as sample counts, hourly checks and production events are carried out.
In addition, data captured through paper forms is generally low quality because of manual entry, data formats and limits cannot be enforced, and paper is prone to damage. Any data captured cannot be easily searched, trended or analysed over time, which leads to further long-term inefficiencies. This is often coupled with any number of Excel spreadsheets or Access databases built internally that are tough to support by the business, in particular if the author leaves the business.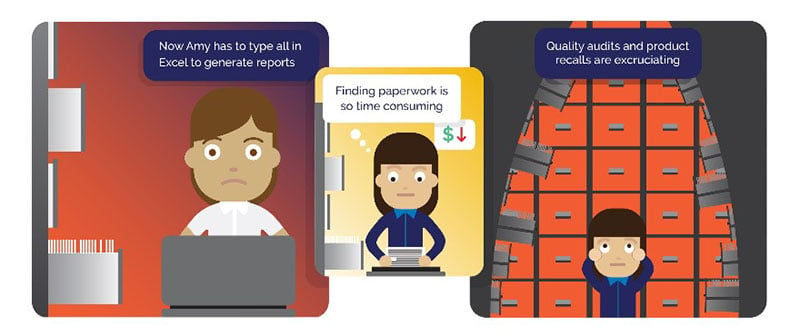 It is clear the organisation depicted above lacks transparency, is prone to error and has little chance of improving its processes based on data, given its manual data collection method. This example is reflective of many manufacturers now: it is typical of Industry 3.0.
Moving towards digital operations

McKinsey shared that intelligent process automation will be "a core part of companies' next-generation operating models". Briefly, these models assist the worker by "removing repetitive, replicable, and routine tasks" – freeing up their time for value-adding activity.
But it is more than a robot completing the same task over and over.
Process automation 'orchestrates' systems, machines and people to execute any well-defined process.
e.g. A workflow in a bottling plant could pull information from disparate production systems, assign tasks to people, respond to events, and push information back into the systems.
Think of a 'conductor' of an orchestra. The conductor doesn't play any instruments but he essentially instructs dozens of people to play their instruments at one time. He instructs each person in real-time, based on a music score, to end up with a perfectly executed sound. That's what we mean by 'workflow orchestration'.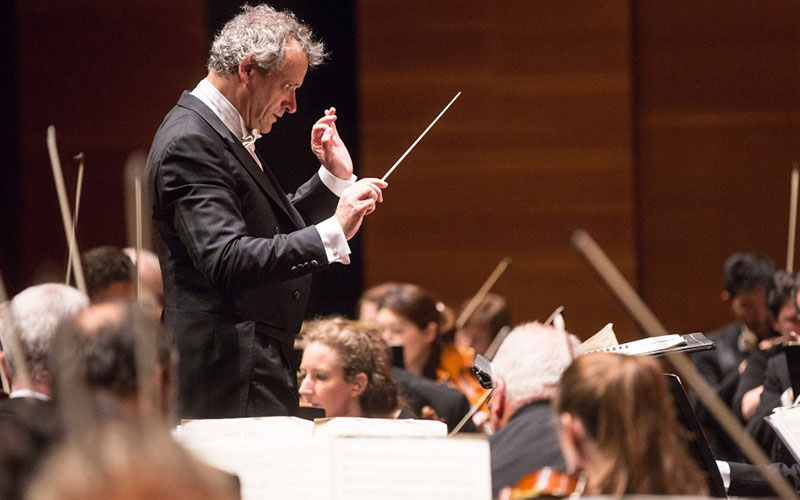 The conductor (workflow) orchestrates. The Orchestra (employees) play their part. Image: Quincena-Musical-Iñigo-Ibáñez
Integrating systems and machines has been possible for a long time. It's not new that companies are starting to integrate their disparate Information Technology (IT) and Operational Technology (OT) systems such as ERP, MES and business finance systems.
Getting a couple of developers to create an application that will perform these integrations is something absolutely achievable already. But the current process where a business analyst writes a specification for a developer to code has always led to a certain disconnection between business and technology.
BPMN provides a different way to work
As explained above, orchestration isn't possible without first modelling the business processes in a digital representation. With business process modelling and notation (BPMN), a human readable diagram is designed and is used as the algorithm that runs the processes.
BPMN enables orchestration of systems, machines and people to achieve a better outcome for the business. Processes can be automated while keeping the people who execute the tasks connected and empowered.
Here's an example of how BPMN can orchestrate a quality check process in a manufacturing facility: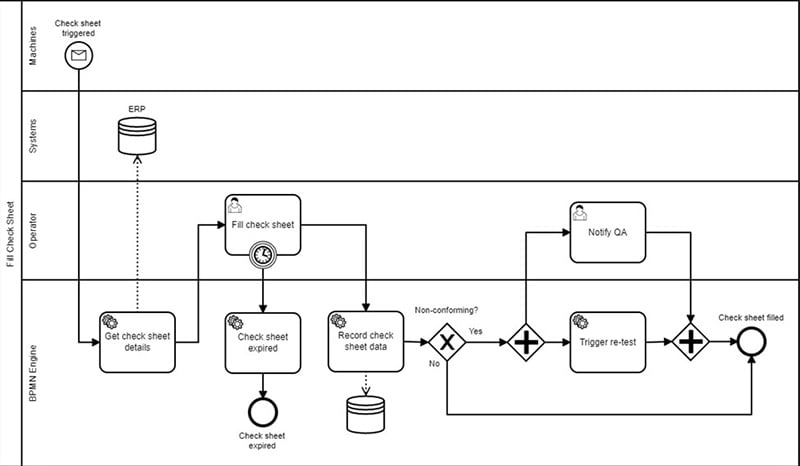 The BPMN engine orchestrates a quality, maintenance and management system, a machine and an operator (via mobile phone) to execute the process. The workflow happens automatically and will trigger different workflows based on events. E.g. If the quality check sheet comes back as nonconforming, it will be escalated to 'notify a Quality Assurance technician' who can decide on an appropriate resolution.
Implementing process automation provides the ability to:

Streamline processes by bringing together different information systems

Gain insight based on combining disparate sources of data

Add transparency to your operations and improve data integrity

Increase process execution adherence (the difference between what people do and what they are supposed to do)

Reduce costs by only doing what is necessary.
How digital operations help businesses remain competitive
Digital processes are already helping companies gain competitive advantage. By automating part of the repetitive tasks, staff have the ability to focus on improvements and value-adding tasks. A streamlined and efficient workforce helps businesses to better respond to increasing consumer demand for transparency and improved services.
For example, Nukon worked with an international wine company on their digitisation project.
The company's Wine Packaging Centre improved its quality system's accuracy, transparency and responsiveness with an automated workflow solution that:

improved the 'right first time' metric

reduced time spent on product rework

increased data accessibility

brought traceability to quality data

increased process control plan adherence

improved recall or audit response times.
Read more: Paperless system transforms quality management

The digitisation project with a wine packaging centre enabled traceability to quality data and made the data more accessible.
In digitising the operation system, the wine company had the opportunity to identify areas it could make improvements. With the ability to orchestrate machines, systems and processes in production, Nukon enabled a reduction in the time staff spend on monitoring, instead allowing them to focus on continuous improvements. Orchestration allows a business to leverage the efficiencies that automation brings, while involving and relying on their people to perform key tasks.
Achieving the right building blocks for efficient digital operations
Starting your digital transformation with small improvements is an approach that provides a solid framework for your journey, and fundamental digitisation steps such as business process modelling can take less time to execute than you might think. Tasks such as drawing the workflow diagram can be done quite quickly, providing a strong foundation for a business to further their workflow journey.
I hope that this blog has helped you to see business process automation is a solid step forward, one that can increase your company's digital maturity and enable your business to deliver better products and services to market

Integrating your workforce with machine/devices and disparate data systems from your MES to warehousing system to business finance management systems is a foundational step in any digitisation initiative, and will set you up to be able to scale other business-wide improvements such as workflow automation. Read how to get started with our free guide to integrating IT and OT systems.